WELCOME TO FAST TOW WRECKER SERVICE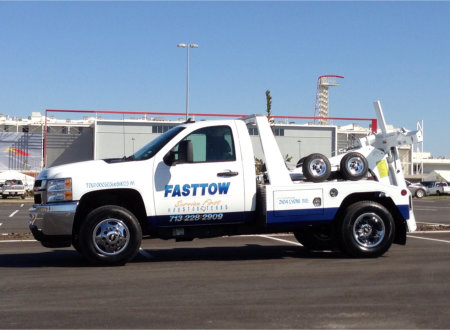 Do you have a parking problem that involves:
Abandoned vehicles left on private property?
Fire lanes?
Handicap lanes?
Parking on sidewalk or grass?
Blocking dumpsters?
Blocking entry or exits?
Abandoned vehicles, flat tires, leaking fluids?
Doubled parked?  (over the line that causes others to have to park inappropriately)
Large commercial trucks like 18-wheelers?
Too many residents and not enough permit parking?
Other issues not mentioned?
We enter vehicles into a towing database system from dispatch to release. This gives customers the best possible service. Vehicles are safe at our storage facility. Our lot is protected with digital video surveillance and round-the-clock guard monitoring.
Our customer service team is at your service 24/7 365 days a year. Our staff is trained and authorized to resolve all issues on the spot.
All vehicles are digitally photographed before towing. The pictures are taken from different angles showing the violation of the vehicle.
Our phones are answered 24 hours a day/ 7 days a week for the convenience of our customers, resident and managers.
ABOUT US
Fast Tow is a family-owned business located in Houston, Texas.
The Rash family has been in the towing business for over 80 years. The goal of the Rash Family has been to bring professionals to the towing industry. Fast Tow Wrecker Service has "State Of The Art" towing equipment. All trucks have two way communication and GPS tracking system.
The office is located in the Central part of Downtown with easy access to every major freeway. Being located at I-10 at I-45 gives Fast Tow Wrecker Service an advantage that no other towing company in Houston has. The office and storage facility are surrounded by a solid fence and is under video surveillance 24 hrs a day/ 7 days a week. Calls are dispatched from the office by employees of Fast Tow.
Fast Tow Wrecker Service holds two City of Houston towing and storage contracts. Contracting with the City of Houston assures that Fast Tow is bonded and insured to a higher degree than any other towing and storage facility within the City of Houston and Harris County.
Fast Tow is also a City of Houston Safe Clear Contractor.
"Great service! We got a flat at 10pm in the medical center and the truck arrived in less than ten minutes.  The driver was wonderful, kind, and even walked the perimeter of the store checking for security cameras in order to park our car in the safest possible location of the tire store. Then he drove us to our house. Would recommend them to anyone!"
Jordan P. -- Metairie, LA